Hard Drive Failure
The most common symptoms of a failing hard drive are: when your mac does not boot up; boots to a solid grey screen; boots to a loading bar that never completes; or shows a file with a question mark. If you are experiencing any of these symptoms, you may have a failing hard drive.
Bring your Mac into Oly Mac Repair! I'll take the extra time and get it done right, sitting down with you in my meeting room and explaining the various replacement hard drive options, and together we'll select the best replacement drive for your needs and budget. Once we begin, I can have your Mac up and running again in a matter of days (or even hours, if you already have your data backed up!).
Data Recovery
Olympia Mac Repair is equipped to handle any data recovery job, whether it be accidental file deletion, crashed/non-booting computer, or catastrophic hardware failure. Your data will be handled carefully and with the utmost security. We also offer hard drive destruction services, so you can rest assured that scam artists and identity theves will be unable to steal your personal information from your old thrown-away drive once it is disposed of.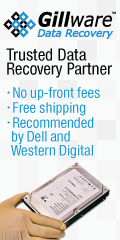 Forensic Data Recovery - The Worse Case Scenario
While most drives can be handled in-shop, in cases where a cleanroom is required, our partners at Gillware Data Recovery can handle even the toughest hardware failure. There are no upfront fees for any Olympia Mac Repair or Gilware data recovery service offerings. We offer an in-person assessment and estimate completely free. If we make a data recovert attempt, but cannot recover your data, you pay nothing.
Data Backups
Many people have this on their to-do list, but don't know where to begin. Let me help you set-up TimeMachine backups, so that in the future, you'll know your data is protected! I can advise you on the best external hard drives to buy, and answer any questions you may have. I can even help you set up wireless backups.