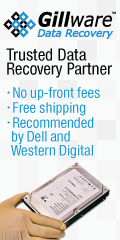 Emergency Data Recovery
Olympia Mac Repair is equipped to handle any data recovery job, whether it be accidental file deletion, crashed/non-booting computer, or catastrophic hardware failure. While most drives can be handled in-shop, in cases where a cleanroom is required, our partners at Gillware Data Recovery can handle even the toughest hardware failure. There are no upfront fees for any Olympia Mac Repair or Gilware data recovery service offerings. We offer an in-person assessment and estimate completely free. If we make a data recovert attempt, but cannot recover your data, you pay nothing.
Dual-Drive Installation (For laptops)
Get the speed and reliability of a solid state drive, plus the massive storage capacity of a conventional hard disk drive.
There are many benefits to adding a second hard drive or SSD to your laptop, such as vastly improved speeds, greater storage space, and less heartache when installing new software. With Olympia Mac repair, you can get help picking out the based drive(s) to meet your performance and budgetary needs. Your computer will be away from you for as little time as possible. This process involves the complete removal of your internal CD/DVD drive. Your old CD/DVD drive will be placed in a USB enclosure, which will function the same way a USB thumb-drive does.